Vintage Girl Scout Online Museum
All ready to help out with the household chores or kitchen work, the Girl Scout apron would help keep the Girl Scout uniform spotless.
Note the round Brownie Membership pin on the collar of the Brownie.
This vintage paper napkin has the same apron design!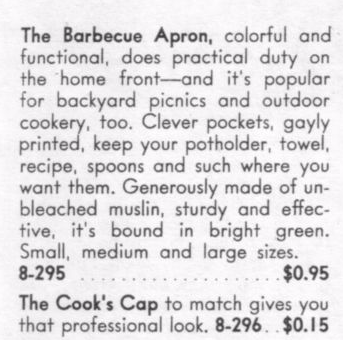 Aprons disappear from the GS Catalogs from 1960 until 1969...
The next apron to appear is easily missed. It came out in 1971, when the GS catalogs were full of craft items. The apron was pre-made, the "crafting" was adding the white emboridery thread. Came packaged as a Girl Scout item.
It wasn't until 1978 that another apron shows up. No longer
relegated
to the kitchen, this Brownie apron is clearly ready for arts and crafts.
By 1981, both the Brownie and Girl Scout unbleached poly/cotton canvas aprons were in the clearance bin.
​
Fast forward to 2000 for the next Girl Scout apron...
2000
​
I wish the catalog could have found an example that wasn't silk-screened off center. The apron seem pretty small to me. Does anyone have the dimensions for this adult apron?
Hold on... it's an other 16 years for the next apron, and this one is totally
Girl Scout Cookie focused...
This one says designed for girls, but one size fits most.
2020 - This apron came in youth and adult sizing
2021 - of the three examples shown, only one carries the trefoil. Yo don't get to choose which "upcycled" apron styles you get.
2021 - None of these "upcycled" apron styles appear to carry any GS mark.
There are other Girl Scout related aprons out there, made by local councils, cookie baking companies, professional embroidery companies and wonderfully handmade of Girl Scout fabrics. Enjoy the hunt!